Bills defense looks to adjust in Miller's absence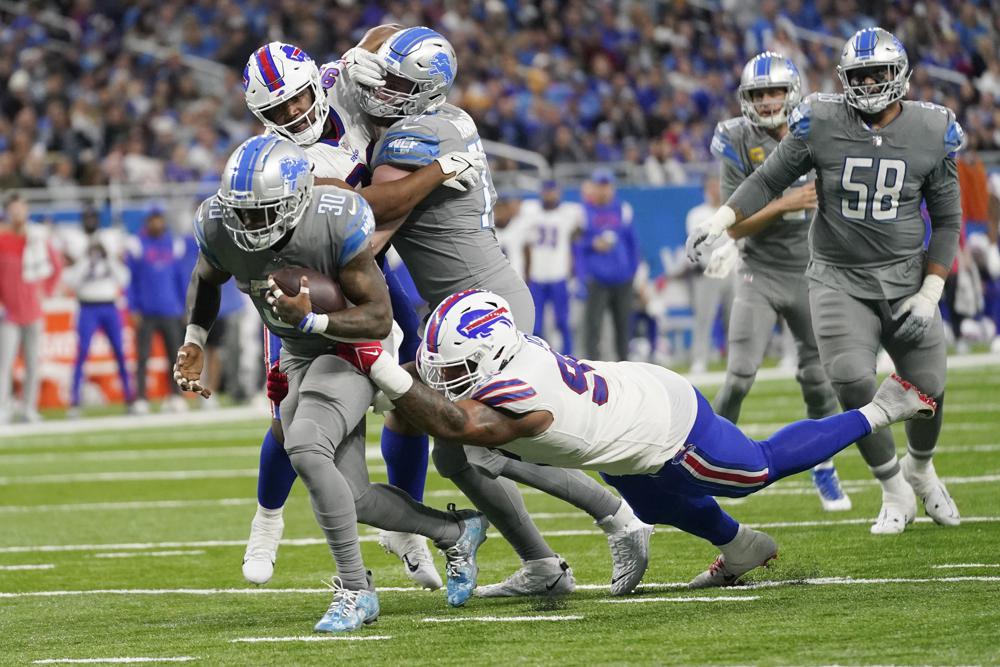 1 of 5Buffalo Bills defensive tackle DaQuan Jones (92) reaches in on Detroit Lions running back Jamaal Williams (30) during the second half of an NFL football game, Thursday, Nov. 24, 2022, in Detroit. (AP Photo/Paul Sancya)
ORCHARD PARK, N.Y. (AP) — Von Miller has led the way for the injury-filled Buffalo Bills defense this season.
With Miller out indefinitely with a knee injury, his teammates are looking to repay the favor.
"We've got to hold together," defensive tackle Ed Oliver said. "Von did the same thing for us."
It's been that kind of year for the Bills defense, which has dealt with several injuries.
The Bills (8-3) have found a way to persevere because of their depth on defense and their ability to score on offense, but they know Miller's absence presents a new challenge. The standout pass rusher was injured in Buffalo's 28-25 win over the Detroit Lions on Thanksgiving and Miller has been ruled out for Thursday's game against the New England Patriots.
"He's a future Hall of Famer for a reason," Bills coach Sean McDermott said. "That said, we've got to move forward."
Injuries have affected every position group on the defense for Buffalo this season.
The Bills opened the season with a banged-up secondary. Top cornerback Tre'Davious White missed the first 10 games of the season as he made his way back from a torn ACL. White played for the first time on Thanksgiving with limited snaps and could receive more playing time against New England. Safety Micah Hyde is out for the year with a neck injury, safety Jordan Poyer missed games on two separate occasions with an elbow injury. And cornerbacks Christian Benford, Cam Lewis and Dane Jackson have also been injured. Benford was placed on injured reserve on Saturday with an oblique injury.
Vikings rookie CB Andrew Booth Jr. has knee surgeryEarly deficits, lots of throws add up to wins for ChargersSeahawks looking for rebound from untimely losing streak49ers defense playing at Super Bowl level
At linebacker, Tremaine Edmunds has missed Buffalo's past two games with groin and heel injuries and Matt Milano has missed time with an oblique injury.
On the defensive line, the news isn't all bad for Buffalo — Miller is out, but others are returning. Buffalo's other starting defensive end, Greg Rousseau, practiced Wednesday after missing the previous three games with a high ankle sprain. A.J. Epenesa is getting closer to returning from an ankle injury as well.
Buffalo's defensive tackles in particular are looking to help pick up the slack with Miller sidelined. Oliver, Tim Settle and Jordan Phillips all dealt with injuries earlier this season, but have been rounding into form as of late.
"Me, Tim, (Phillips) and (DaQuan Jones) are all healthy," Oliver said. "The inside four are all healthy so that just means that our role has to just increase. I know we're banged up on the edges, but all four of us are healthy. So between the four of us we can get it done."
As a group, Buffalo's defensive tackles have shown tremendous improvement over the past two weeks. After being gashed in the run game in three consecutive weeks, the Bills held Cleveland's Nick Chubb to just 19 yards in a 31-23 victory and they contained both Jamaal Williams and D'Andre Swift on Thanksgiving.
Oliver, in particular, has been a standout as of late. He had one of his best games of his career in the win over the Lions, getting a safety and both forcing and recovering a fumble.
"He finished the season so strong for us a year ago and he kind of set a standard," defensive coordinator Leslie Frazier said. "And then he had a high ankle sprain after the first game and missed a lot of time. It took him a bit to get back. But he's getting to that point now and based on (Thursday) he's getting back to the standard for sure where he's making those splash plays time in and time out, which is what we need from him and a few of our other guys as well — especially in the absence of Von."
The Bills know they will miss Miller, but they also know they've shown the ability to overcome key injuries on defense.
"It will be a big loss," Frazier said. "I'm not going to sit here and sugarcoat that and say it's not. He's a very important cog in what we do. But it also means that provides an opportunity for someone else. We just need the other guys to step up and make plays when they have an opportunity to make plays."
NOTES: For the second week in a row, several players missed practice because of illness. CB Siran Neal, S Jordan Poyer, CB Dane Jackson, WR Khalil Shakir, LB Tyler Matakevich, S JaQuan Johnson, RB Nyheim Hines and TE Quintin Morris all missed practice on Sunday. … OL Ike Boettger made his long-awaited return to practice. Boettger suffered a torn Achilles tendon late last season and suffered a setback in his recovery over the summer. Boettger has 21 days to be activated off the physically unable to perform list.
___
AP NFL: https://apnews.com/hub/nfl and https://twitter.com/AP_NFL
You May Like
Tom Brady's Ex Finally Speaks Out About GiselePromoted: Bedtimez
25 NFL Draft Busts That GM's Are Still Laughing AboutPromoted: Definition
The 10 Most Embarrassing Moments in SportsPromoted: Today's NYC
We wouldn't want their vacation, but boy did we laughPromoted: BetterBe
How Marketing Automation Can Help SMBs Thrive During Inflation
With ongoing inflationary pressures tightening budgets, marketing automation software is helping SMBs worldwide to create engaging and personalized marketing campaigns in a fraction of the time and costs.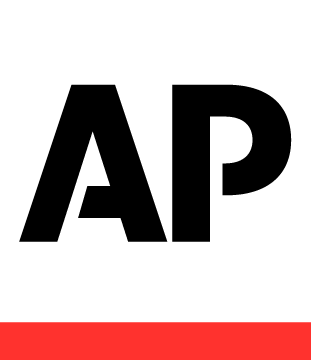 Top Storiesby The Associated Press
GOP-controlled Arizonacountyrefuses tocertify election
Gwen Stefani, 53, Takes Off Makeup, Leaves Us With No WordsFinance Wealth Post
Mad Neighbor Got What She Deserved When The Couple Bought Her HouseGadgetheory
20 Photos Of The Hottest Fans In World Cup HistoryCash Roadster
Dad Cuts Daughter's Hair Off For Getting Birthday Highlights, Then Mom Does The UnthinkableCrafthought
Chrissy Metz's Photos After Her Weight Loss Are A Bit Too MuchNews Sharper
This NFL Player from Ohio Owns The Most Lavish HomeSportsDrop
Ad Content
We Laughed So Hard At Every One Of These Car WrapsPromoted: Yeah MotorClick Here
The Car That Greta Thunberg Owned At 19 Says It All Promoted: Paperela
Michael Douglas and Catherine Zeta-Jones' Hefty Divorce Settlement Is Out In The OpenPromoted: Dailyforest
QB Aidan O'Connell led Purdue to win after brother's deathWEST LAFAYETTE, Ind. (AP) — Purdue quarterback Aidan O'Connell led the Boilermakers to a victory Saturday over rival Indiana just days after his oldest brother, Sean, died. The school tweeted a statement from O'ConnellNovember 27, 2022
Ad Content
Little Boy Walks Into Fire Station With A Note – While Reading The Firefighter Starts CryingBedtimez
Drones Capture Photos They Weren't Supposed ToFoodictator
He's Been Told Not To Touch This Cat, But Didn't Listen – Days Later A Cop Knocked On His DoorVibrantWorld
Norah O'Donnell Has Been Married To Him All AlongB Trending
26 Office Pranks That Got Employees FiredDefinition
15 Actors That Hollywood Banned For LifeYourBump
Ad Content
Russian Ring Necklace in Sterling Silver$90Promoted: MykaBuy now
This Rapper Had 15 Kids Total With 9 Different WomenPromoted: Dailyforest
The Worst Cheerleaders Photos In History You Don't Want To MissPromoted: RetroPages
Serbia charged over locker room Kosovo flag at World CupDOHA, Qatar (AP) — The Serbian soccer federation was charged by FIFA on Saturday for hanging a political banner about neighboring independent state Kosovo in the locker room before playing Brazil at the World Cup .November 26, 2022
AP NEWS
Cookie Settings
DOWNLOAD AP NEWS
Connect with the definitive source for global and local news
MORE FROM AP
FOLLOW AP
THE ASSOCIATED PRESS
All contents © copyright 2022 The Associated Press. All rights reserved.