Updated now
World Cup live updates: USA beats Iran, moves on to next round
Team USA took a 1-0 lead with Christian Pulisic's goal in the first half. Tuesday's match is the second between the two sides in World Cup history.
TAP TO UNMUTE
Link copiedSAVECreate your free profile or log in to save this article
Updated Nov. 29, 2022, 4:15 PM EST
By David K. Li
What to know about U.S. versus Iran in the World Cup
Christian Pulisic scored a first-half goal, the only goal in the game against Iran
The U.S. moves on to the round of 16, facing the Netherlands Saturday
13m ago / 4:03 PM EST
Final: United States 1, Iran 0

Christian Pulisic's goal late in the first half gave the United States a dramatic 1-0 victory over Iran in Qatar on Tuesday, sending America through to World Cup knockout action.
With this do-or-die win at Al Thumama Stadium in Al Khor, the United States finished in second place of Group B play with five points.
The Americans advanced to round-of-16 play and will play Group A winner Netherlands at 10 a.m. EST Saturday at Khalifa International Stadium in Al Rayyan.
Reaching the round of 16 marked a huge achievement for the U.S. program, which failed to qualify for the 2018 World Cup in Russia.
Link copied
19m ago / 3:57 PM EST
Final: England 3, Wales 0

The Three Lions won Group B with a dominating second-half effort against the Dragons.
22m ago / 3:54 PM EST
United States 9 minutes to advancing

Officials added 9 minutes of stoppage time as the United States held a tenuous 1-0 lead over Iran.
Only a victory would put America through to knockout play.
Should Iran score an equalizer in the next 9 minutes, the United States would be sent home short of the round of 16.
39m ago / 3:37 PM EST
England well on its way to round of 16

Marcus Rashford scored his second goal of the match, as England took a 3-0 lead over Wales and had knockout play well within its grasp.
The Three Lions, the likely Group B champs, would play Sunday against Senegal in the round of 16.
55m ago / 3:21 PM EST
Three Lions roar out of the halftime changing room: England leads Wales 2-0

Marcus Rashford and Phil Foden scored in the first six minutes of the second half as England took a commanding, 2-0, lead over Wales.
An England victory would lock up first place in Group B for the Three Lions.
1h ago / 3:15 PM EST
Christian Pulisic out of the match

American goal scorer Christian Pulisic was substituted out of the match at halftime.
Pulisic fell hard into the Iranian goal after scoring to give the United Sates a 1-0 lead. He was briefly sidelined as the Americans played with 10 men in the moments after his goal.
The U.S. starter was taken out in favor of Brenden Aaronson
Link copied
1h ago / 3:10 PM EST
Live standings: England leading Group B if current scores stand

With the United States leading, 1-0, and English scoreless against Wales at halftime, here are the live standings:
1. England — 5 points (+4 goal differential)
2. USA — 5 points (+1)
3. Iran — 3 points (-3)
1h ago / 3:04 PM EST
Tim Weah called offside wiping out a second possible goal

The United States was an inch away from taking a commanding two-goal lead into halftime, but Timothy Weah was ruled offside.
Weah, the Brooklyn-born son of Liberian President George Weah, appeared to kiss a shot off the inside of the post and score in first-half stoppage time.
But replays showed he was a knee ahead of an Iranian defender as Weston McKennie passed to him.
Link copied
1h ago / 2:58 PM EST
45 minutes to glory: Americans take 1-0 lead into dressing room

The United States headed into halftime with a 1-0 lead over Iran, as the Americans found themselves 45 minutes away from advancing to the World Cup's knockout round.
If this match ends in a U.S. victory, America would have five points and finish no worse than second place of Group B. First-place England and Wales were scoreless at halftime of the other Group B match.
The Americans have dominated play so far, with 54% possession compared to just 30% for Iran.
Link copied
1h ago / 2:49 PM EST
Photos: Fans wear their colors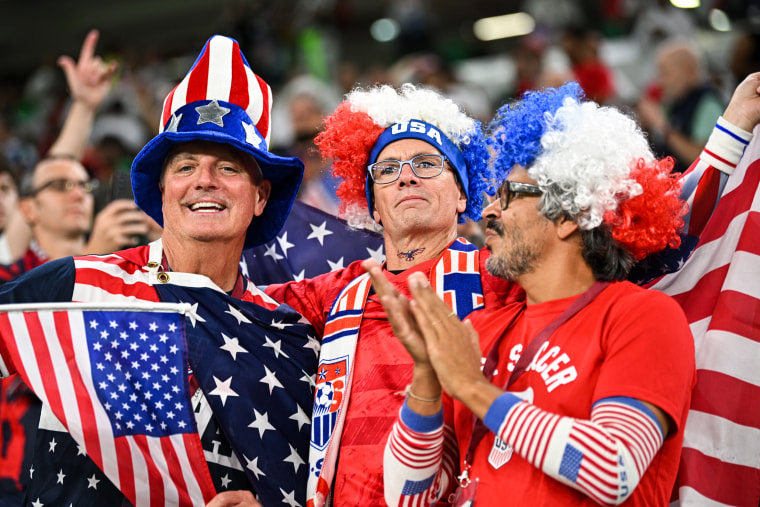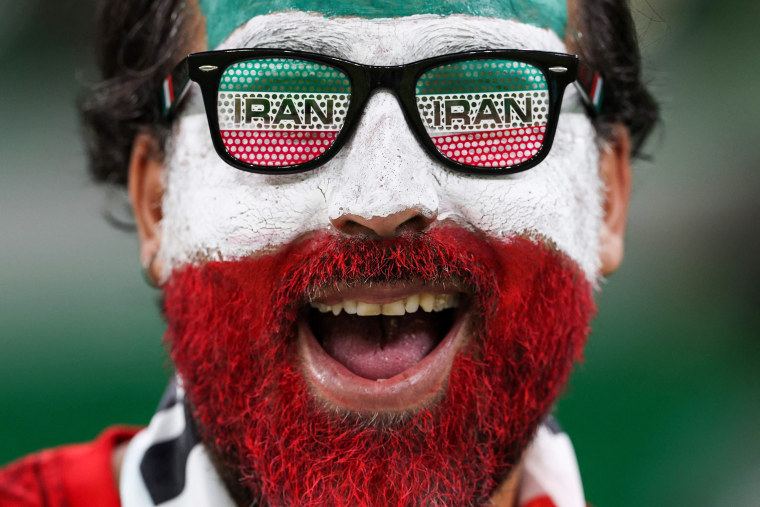 Link copied
2h ago / 2:41 PM EST
First blood: USA takes 1-0 lead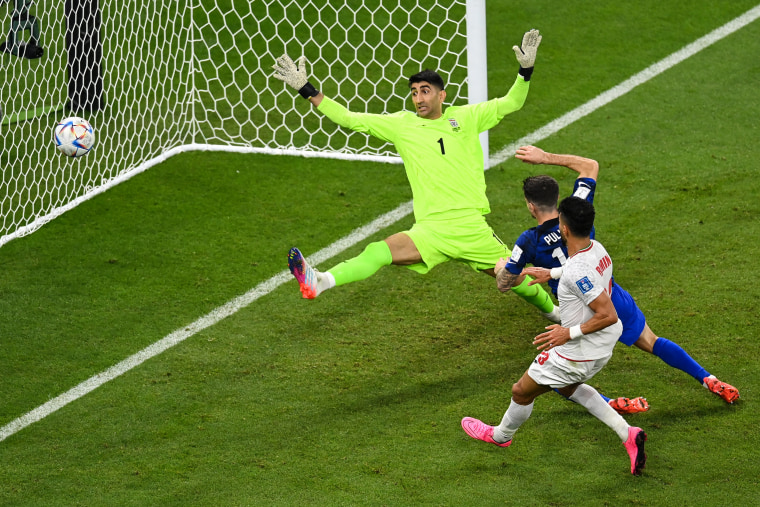 Christian Pulisic scored from close range in the 38th minute as the United States took a 1-0 lead over Iran.
Pulisic had to be helped off the field after crashing into the net as his American teammates played with 10 men moments after giving his squad the lead.
He converted a headed pass from Sergiño Dest to give America the crucial first goal.
Link copied