Democratic Sen. Warnock defeats Republican Walker in Georgia runoff
Democratic Sen. Raphael Warnock successfully fended off a challenge from Republican football star Herschel Walker Tuesday, NBC News projects.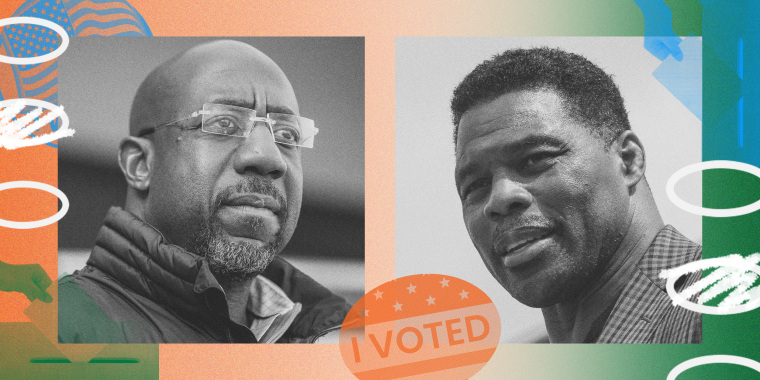 Dec. 6, 2022, 5:22 PM EST / Updated Dec. 6, 2022, 10:27 PM EST
By Alex Seitz-Wald and Sahil Kapur
ATLANTA — Democratic Sen. Raphael Warnock defeated Republican football star Herschel Walker on Tuesday in Georgia's Senate runoff election, NBC News projects, handing President Joe Biden and his party a key win.
Warnock's victory will give Democrats an outright majority in the Senate after two years under a 50-50 divide, with Vice President Kamala Harris casting tie-breaking votes.
Senate Republicans had been hoping to get a headstart on the 2024 election, when the electoral map heavily favors the GOP. But Walker was dogged by scandals, a more than 2-to-1 spending disadvantage and lack of confidence in both the candidate and his campaign from some GOP officials.
Republican voters typically wait to vote on Election Day, but their voters did not turn out on a damp and drizzly Tuesday in the numbers the Walker needed to overcome the advantage Warnock had banked during the early vote window.
In an interview with NBC News, Warnock campaign manager Quentin Fulks credited the victory in part to driving the contrast between candidates — and continuing to appeal to independent and Republican-leaning voters who had reservations about Walker.
"When it turned out to be Herschel Walker, we immediately looked at the landscape and saw an opportunity to say that we can make this race about 'the Reverend' versus 'the running back.' And if we did that, we could control our own destiny within this cycle," Fulks said.
"There could have been other campaign operatives or another campaign that could have said, 'OK, Herschel Walker has all this baggage, so we're just going to run to the left and just try to turn out as many of our voters and just let Republicans eat their own,'" Fulks added. "We didn't do that."
Fulks said one of the biggest challenges was to motivate voters to turn out on an unusual Dec. 6 Election Day.
"We had to make our own energy organic," he said
The runoff election was triggered by state law because neither candidate won an outright majority in the November election
Democrats' 51st vote means they can rip up the power-sharing arrangement they struck with Senate Republicans and secure a clear majority of votes on committees. They'll also have one vote to spare on matters like confirming executive branch nominees and judges.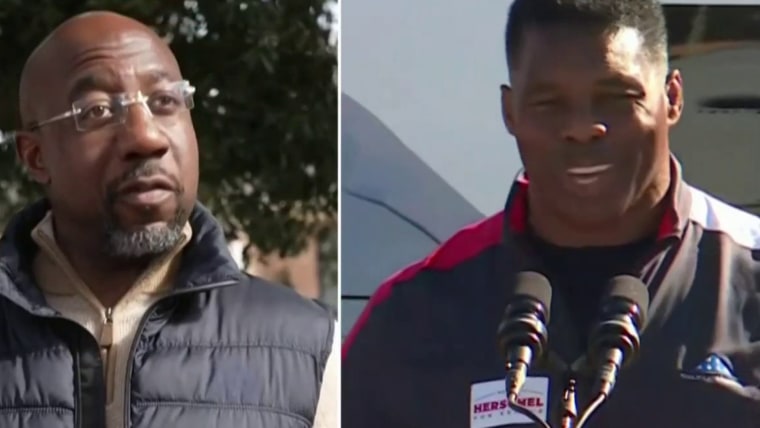 DEC. 6, 202205:33
The extra seat could also be critical to Democrats' chances of retaining the majority in 2024, when the electoral map heavily favors Republicans.
Walker, who was backed by former President Donald Trump and was a star running back for the University of Georgia and in the NFL, had been dragged down by mounting scandals and a sense of pessimism about his campaign.
Warnock, who for years was the pastor at Martin Luther King Jr.'s former church, has tried to reach swing voters by portraying the race as not as a contest between Republicans and Democrats, but about "right versus wrong," as he said in an interview with MSNBC's Joy Reid Monday.
Recommended


Still, Georgia has been a reliably red state until just two years ago, when it voted for President Joe Biden and then elected Warnock and fellow Democratic Sen. Jon Ossoff in twin runoff elections.
Walker has warned Republicans that they need to turn out to stop national Democrats from gaining more power. "If you don't vote, you're going to get more of Chuck Schumer and Joe Biden," he told Fox News' Sean Hannity Monday night.
A drizzly and chilly Tuesday did little to dampen the motivated voters of Atlanta.
Duane Cochenour, a 61-year-old attorney, cast a vote in his midtown Atlanta precinct for Walker. But he said he's "not crazy about" the Republican and was reluctant to support him.
"I'm not a Donald Trump fan at all. I really wish he would go away. That's my biggest negative in voting for Walker — I didn't want to be perceived as a vote in favor of a Trump candidate," Cochenour said, reflecting the mood that helped turn Georgia blue two years ago. "But I felt like the importance of taking the Senate back outweighed that."
Rebecca Perdomo, 29, a consultant in Atlanta, said she voted for Warnock because of his progressive views, particularly on abortion. Perdomo said he didn't vote in the midterm election last month because she was out of the country so she made sure she voted this time.
"I was really upset about that. So I was like, I have to make sure I come here today. It's really important," she said.
Matthew Pinder, 24, said he voted for Warnock because he's "reasonable" and "the other candidate isn't."
Bob Boyd, the director of operations and finance for Lutheran Church of the Redeemer, a polling place in midtown Atlanta, said he's seen "heavier turnout" on Tuesday compared to Nov. 8 Election Day.
He said that may be because the window for early voting was shorter in the runoff than last month's election, prompting more Election Day votes.
Sahil Kapur reported from Atlanta, and Alex Seitz-Wald from Washington.

Alex Seitz-Wald is senior digital politics reporter for NBC News.

Sahil Kapur is a senior national political reporter for NBC News.
America's largest LEGO event is coming to Columbus, OH!Brick Fest Live will be coming to the Greater Columbus Convention Center on January 14-15, 2023
Amazon Customer Returns,Free gifts at ultra-low prices!
The best incontinence underwear, according to experts in 2022We took a look at different incontinence underwear brands to see which ones offered the best customer experience. Here are our top 5 picks.
The Best Christmas Gift For Girls, This Makeup Bag Is Magic.
This Pocket Telescope Is Our #1 Gift
Amazon Left In Chaos After Shoppers Found This OutThink you're getting the best deal when you shop online? Don't buy a single thing until you try this — you won't regret it.
When you succeed, so do we. Hiring for remote roles.
Best Thick Toenail ClipperThis Podiatrist Recommended toenail clipper cuts thick toenails effortlessly
GRAND HISTORIC STRATEGY SIMULATION/
What if the US had not entered WW2? Game simulates alternative historyThis strategy games makes you become a player in the crucial situations of history.
Background-noise-cutting TV Speaker – Understand TV dialogue againLimited time $50 off coupon
I Tried This Target Trick That's All Over The Internet And It's Amazing
Here Are 23 Of The Coolest Gifts For 202223 Hottest Cool Gifts In 2022 You'll Regret Not Getting Before They Sell Out
More From NBC News
NBC NEWS / VIDEOWhat Steve Kornacki is watching on the Georgia Senate runoff
NBC NEWS / POLITICSGeorgia Senate runoff live updates: Walker and Warnock face off
NBC NEWS / SHOP19 unique white elephant and Secret Santa gift ideas in 2022
You Will Either Find Valuable, High-End Things or Laugh All Day With Your Box.This is the cheapest time of the year for Amazon & Wal-Mart & eBay pallets.if you miss out, you'll have to wait another year
Regular People Call It A Pocketknife – It's Anything but That
This Tool Gives You Complete Protection!
Amazon Has Millions of Prime Subscribers — But Few Know About This Savings Trick
NBC NEWS / NIGHTLY-NEWSWoman accuses Herschel Walker of domestic violence in exclusive interview
NBC NEWS / NOWSpike Lee rallies crowd at Warnock party as votes are counted
THINK / OPINIONOpinion | Why the Democratic Party suffered devastating losses in New York of all places
It Allows You To Take A Closer Look At Your Hummingbirds!
Unsold Never-Used Laptops Now On Clearance
The Amazon hack that will transform your shopping
AMJ JEWELRY & WATCHES WEB STORE/
AMJ Jewelry & Watches Web StoreAncients believed Only Kings and Emperors, priests and pirates could own jewelry. Not anymore! Splurge here at your heart's content!
NBC NEWS / VIDEOGeorgia voters split over candidates' characters
THINK / OPINIONSocial | China's Xi Jinping just got a taste of democracy and he didn't like it
NBC NEWS / NEWSFormer CBP agent accused of sexually assaulting a minor was caught on video threatening his accuser
AMAZON RETURNS PALLETS ONLINE/
Amazon's unclaimed high-end electronics mystery boxes are being sold at bargain prices.
Cleans Pores, Removes Dirt, Excess Sebum and Dead Skin, Making Your Skin Smoother.
Amazon Left Scrambling As Prime Users Find Out About Secret Deals
Stealth Angel 2 Person Emergency Kit / Survival Bag (72 Hours)The Stealth Angel Survival 2 Person 72-Hour Emergency Survival Kit has all essential emergency items packed securely in our popular Stealth Angel Survival Backpack
NBC NEWS / POLITICSFamily of deceased Capitol Police Officer Brian Sicknick snubs GOP leaders
NBC NEWS / POLITICSRepublicans disavow Trump's call to terminate the Constitution but stop short of saying it disqualifies him for 2024
THINK / OPINIONOpinion | Apparently the Trump show must go on
It's Just Too Much Fun To Cut Vegetables In It !
Here Are 29 of the Coolest Gifts for This 202229 Insanely Cool Gadgets You'll Regret Not Getting Before They Sell Out
This Insanely Cool Headlamp Is Flying Off Shelves
Keep Warm In Cold Weather!Enjoy Outdoor Sports!
NBC NEWS / NEWSU.S. intel chief says Russia is using up ammunition in Ukraine faster than it can replace it
NBC NEWS / POLITICSFormer Rep. David Rivera of Florida is arrested in Venezuela probe
THINK / OPINIONOpinion | Trump's delusion about white supremacists like Nick Fuentes
Men's Cowhide Trifold Wallet
How are Amazon shoppers saving money? Read this
Cost effective solution to tracking your vehiclesYou'll be surprised to learn that fleet solutions are now available for small businesses with vehicles with Nexar fleets, the simple and affordable vehicle monitoring system.
PUMA Cali Women's Sneakers in White, Size 8.5A sport style turned street classic, the California is one of PUMA's most iconic silhouettes. We've updated the California for the next generation to create the Cali. Taking cues from the original, the Cali features a full leather upper and classic tennis silhouette, with a progressive stacked sole and laid-back West Coast vibes. | PUMA Cali Women's Sneakers in White, Size 8.5
THINK / OPINIONOpinion | Democrats can't complain about the retribution Kevin McCarthy is threatening
NBC NEWS / POLITICSTop elections official in Texas resigns
NBC NEWS / NOWArgentine vice president sentenced to six years for fraud charges
Wooden Animal Brooches Will Accompany You This Winter!
Homeowners Are Trading in Their Doorbell Cams for This $49 New Lightbulb Security CameraNew Camera Makes Doorbell Cams Obsolete
CHRISTIAN LOUBOUTIN1-2 business days delivery time
15 Ridiculously Cool Gifts You'll Want To Buy Immediately15 Insanely Cool Gadgets You'll Regret Not Getting Before They Sell Out
THINK / OPINIONOpinion | Thought the Supreme Court couldn't get more extreme? Check out this redistricting case
NBC NEWS / MEET-THE-PRESSJohn Bolton says he may launch presidential bid to stop Trump
NBC NEWS / POLITICSEthics panel directs Madison Cawthorn to donate $15K for improperly promoting Let's Go Brandon cryptocurrency
If You Like to Play on Your Computer, this Vintage Game is a Must-Have. No Install.
MONCLER1-2 business days delivery time
Prime Members: Stop Paying Full Price On Amazon [Here's How]
AMAZON RETURNS PALLETS ONLINE/
These Electronic Pallets Will Bring Your Organization To The Next Level
NBC NEWS / NOWIdaho police return slain students' belongings to families
THINK / OPINIONOpinion | Ticketmaster's Taylor Swift meltdown exposes the dirty secrets of a broken system
NBC NEWS / POLITICSBipartisan duo makes last-minute push for immigration deal
THE PARRY JACKET – red multi / LCue the coolest crop of the season. This double-breasted darling has a wide lapel, a slim classic fit and the textured fabric is lined. Did we mention that this plaid blazer is cool…and cropped? 100% POLYESTER Sif is 5'9″ wearing size Small
GOLDEN GOOSE1-2 business days delivery time
Understand The Current State of Machine Vision TechnologyOur intelligent sensing solutions are developed with nearly fifty years of imaging expertise and proprietary pixel design processes, enabling the highest resolution image capture.
POLO RALPH LAUREN1-2 business days delivery time
NBC NEWS / NIGHTLY-NEWSWarnock, Walker face off in Georgia runoff election
NBC NEWS / POLITICSConservative firebrand launches another bid to block McCarthy from becoming speaker
NBC NEWS / VIDEOMTP NOW Dec. 5 — John Bolton announces potential 2024 run; Georgia prepares for Senate runoff
about:blank
Unmute
© 2022 NBC UNIVERSAL
javascript:void(0)