Live updates: Police name suspect in Colorado LGBTQ nightclub shooting that killed 5
The suspected shooter was detained and hospitalized after being injured in the incident at Club Q in Colorado Springs, police said.
TAP TO UNMUTE
Updated Nov. 20, 2022, 4:02 PM EST
By NBC News
The latest on the Colorado Springs shooting:
Five people are dead and 25 injured after a gunman entered Club Q, a Colorado Springs LGBTQ club, Saturday and began firing with a long rifle.
The gunman is in custody after being subdued by at least two people inside the club.
Police said a motive for the shooting remains unclear at this time.
Club Q was hosting a "Drag Divas" show followed by a DJ night on Saturday the night before Trans Day of Remembrance. Colorado Springs Police Chief Adrian Vasquez called Club Q "a safe haven for our LGBTQ citizens."
11m ago / 4:02 PM EST
GLAAD calls Club Q shooting 'horrific tragedy,' says 'vile rhetoric' and anti-LGBTQ legislation responsible for the attack
Alexandra Hess and Mirna Alsharif
The Gay & Lesbian Alliance Against Defamation released a statement on the Club Q mass shooting on Sunday, calling it a "horrific tragedy."
"This unspeakable attack has robbed countless people of their friends and family and an entire community's sense of safety," said Sarah Kate Ellis, the president and chief executive officer of GLAAD.
Ellis also said that false rhetoric and anti-LGBTQ legislation is responsible for attacks on the community like this one.
"You can draw a straight line from the false and vile rhetoric about LGBTQ people spread by extremists and amplified across social media, to the nearly 300 anti-LGBTQ bills introduced this year, to the dozens of attacks on our community like this one," she said. "The media must stop spreading misinformation and elevate the truth that LGBTQ people exist, belong and want to live in peace and safety. Elected officials and corporate leaders must act immediately to prioritize this truth, and protect everyone's safety."
The mass shooting that claimed the lives of at least 5 people and injured more than a dozen happened on the eve of the Transgender Day of Remembrance, an annual observance that started in 1999 to honor the memory of transgender people killed in acts of anti-trans violence, according to GLAAD
16m ago / 3:57 PM EST
Colorado Springs local says climate felt increasingly unsafe for LGBTQ people
Parker Grey, 25, said he used to be a regular at Club Q because he lived next door, but he stopped going about a year and a half ago "because of the growing hatred for our community that started in the Springs."
Grey said the most recent Pride celebration drew a small crowd compared with the city's first Pride event a few years ago, and there were always protesters. Recently, he and his friends have instead traveled to Denver for most LGBTQ events.
"The numbers thinned out at the club naturally with Covid, but I think people began to fear for their safety again, like they did back in 2016 when Pulse happened," he said, noting the rise in violence against transgender people, particularly trans women of color, over the last few years. "You can just feel it. As a community, being through so much grief and so much loss after so many years, it's almost like you can feel tragedy coming."
Grey is going to host a "Remembrance and Radicalization" event on Monday at 7 p.m. MT (5 p.m. ET) in Acacia Park. He said he has received a lot questions about using the word "radicalization," and that he "wanted it to be very clear that we are not just sad but that we're also angry."
He said violence is a major part of LGBTQ people's lives "and it's happening continuously, and you hear all these half-assed apologies from these politicians on their Twitters and then we see no action."
22m ago / 3:51 PM EST
FBI assisting Colorado Springs Police Department in investigation
Julianne McShane
The FBI is assisting the Colorado Springs Police Department in its investigation into the mass shooting at the LGBTQ nightclub Club Q, the bureau's national press office said in a statement Sunday afternoon.
"The Denver FBI Field Office, the Justice Department's Civil Rights Division, National Security Division, and the U.S. Attorney's Office for the District of Colorado are aware of the situation regarding the shooting in Colorado Springs at Club Q, and we will review all available facts of the incident to determine what federal response is warranted," the statement said.
"The FBI is providing assistance to the Colorado Springs Police Department."
29m ago / 3:43 PM EST
Club Q owner decries 'this level of hate'
COLORADO SPRINGS, Colo. — Club Q owner Matthew Haynes said he never envisioned "this level of hate," when describing the mass shooting that took the lives of five people and injured 25 others at his LGBTQ club Saturday evening.
Haynes said the timing of the shooting worsens the situation with Thanksgiving on the horizon.
"Family members won't be with their family members," he said.
Haynes said he opened his he club 20 years ago to give people a place to gather and be themselves.
"We started it when there were darker days. We didn't have a lot of rights and we needed places to have a community and that's what Club Q has been for twenty years," he said.
2h ago / 2:03 PM EST
Photos: People gather for a vigil following Colorado shooting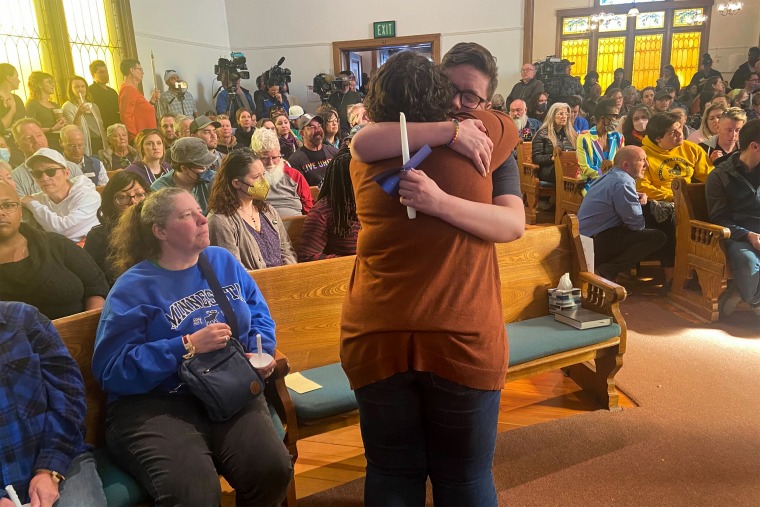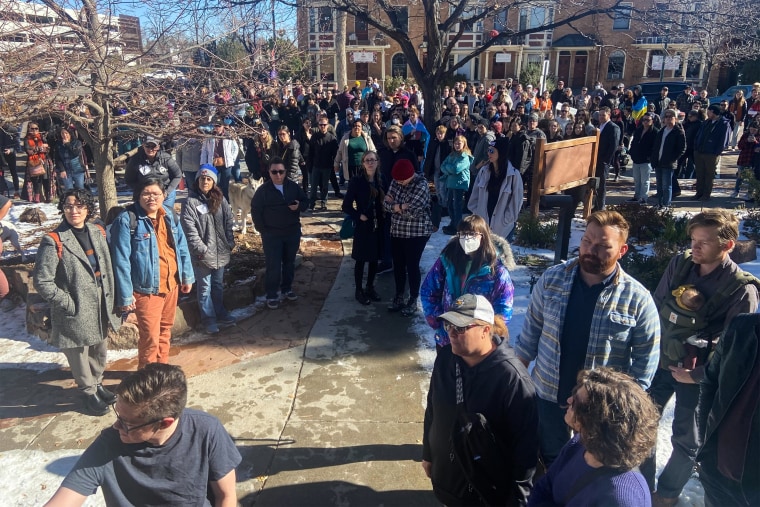 3h ago / 1:37 PM EST
Man with same name as Colorado suspect involved in bomb threat last year
Eric Hinton
A man with the same name and age as the suspect arrested in Colorado Springs Saturday was arrested by sheriff's deputies last year after a bomb threat was made in a residential area outside Colorado Springs. The man's mother told officials her son was threatening to harm her with a homemade bomb and weapons, the sheriff's office said at the time. The man at first refused to surrender to police but eventually complied with authorities. No bombs were discovered during the incident.
3h ago / 12:53 PM EST
Biden condemns 'devastating' Colorado Springs shooting

President Joe Biden issued a statement in response to the deadly shooting Sunday, acknowledging that the LGBTQ community has been "subjected to horrific hate violence in recent years," with gun violence continuing to have a "devastating and particular impact" on communities nationwide.
"Places that are supposed to be safe spaces of acceptance and celebration should never be turned into places of terror and violence. Yet it happens far too often," the president said. "We must drive out the inequities that contribute to violence against LGBTQI+ people. We cannot and must not tolerate hate."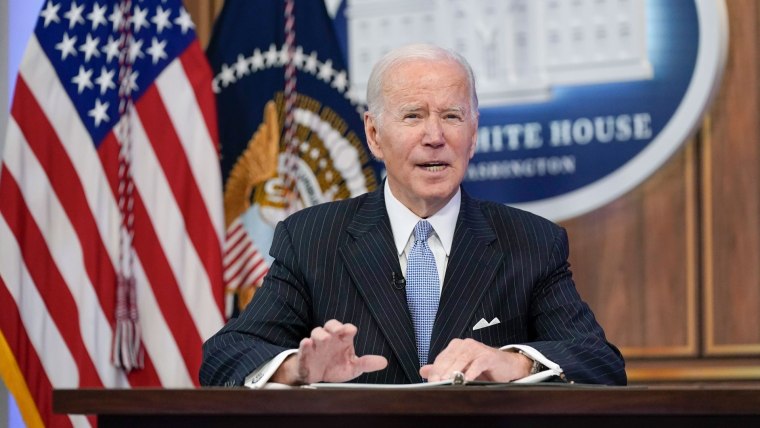 NOV. 20, 202202:11
The president pointed to his signing of legislation aimed at preventing gun violence earlier this year but said more must be done. Biden urged a ban on assault weapons.
"Today, Jill and I are praying for the families of the five people killed in Colorado Springs last night, and for those injured in this senseless attack," Biden said.
4h ago / 12:43 PM EST
Denver Broncos to hold moment of silence following mass shooting
Julianne McShane
The Denver Broncos said in a tweet they would hold a moment of silence "remembering the lives lost" ahead of their game against the Las Vegas Raiders on Sunday.
"Our hearts go out to the victims of the senseless act of violence that occurred last night in Colorado Springs," the team wrote. "There is no place for hate, and we stand with the LGBTQ+ community and all impacted."
4h ago / 12:38 PM EST
Photos: People mourn outside Club Q following mass shooting